Jesus in Luke 12:47 That servant, who knew his lord's will, and didn't prepare, nor do what he wanted, will be beaten with many stripes, 48 but he who didn't know, and did things worthy of stripes, will be beaten with few stripes.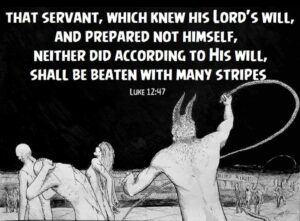 It seems that many born-again Christians today are questioning God's justice in His decision to send people to hell. Some are getting bitter at God, so they're practically shunning the greatest commandment, no longer wanting to worship God or actively trying to hear and obey — to be His legitimate sheep. Many have allowed themselves to be defiled by a root of bitterness, because they think that God isn't fair. Bob Mumford called this being scandalized.
Hebrews 12:14-15:
Follow after peace with all men, and the sanctification without which no man will see the Lord, looking carefully lest there be any man who falls short of the grace of God; lest any root of bitterness springing up trouble you, and many be defiled by it….
The main reason that the masses of people are choosing to live for themselves instead of our holy God is because people haven't seen 'ONE' happen. Jesus said He would give us His glory for us to be ONE with each other in Him — "that the world will know."
While many are busy trying to decide if God is just, the world is going to hell, including most 'Christians.' The call to be 'ONE' is being put on the shelf, so the refusing-to-be-Spirit-led 'Christians' are largely responsible for the lack of desire of non-Christians to want anything to do with God.
I believe the "root of bitterness" is a major demonic stronghold, just like the "root of all evil" involved with the love of money is. The way to be free is to submit to God and resist the Devil. We must be willing to obey, day by day — life in the Son.
I have personally experienced enough of God to know for sure that He is just, and whatever He decides is right. It's not for me to question His holiness. He is holy, period. Everyone in heaven knows that, and worship Him in Spirit and in truth. And we can also worship in Spirit and in truth on earth if we give up the ghost that is keeping us from loving the Lord, our God with ALL of our heart, soul, mind and strength.
Then 'ONE' can happen, and we'll be on Cloud 9 forever, starting here on earth — no matter what happens.
I would like to share in this post the idea that there are levels of punishment in hell. The flame-on areas are particularly awful, and disobedient Christian ministers seem to end up there, for Paul said teachers will get a stricter judgment. I'm thinking that the heads of Monsanto, the New World Order and Big Pharma probably end up there too. I recommend Mary Katherine Baxter's book on the subject, which can be read or listened to for free, linked below.
And those who know the truth and then don't live for God, they're judgments are more severe too. Some of the scriptures below explain this.
But is there a low punishment area of hell, for those who hadn't heard the gospel, and did the best they could, perhaps just barely falling short of making it into heaven.
I met a man in a museum in Boston in 1999, who told me about his dream
I can't prove it, at least yet, but here is one piece of evidence.
I met a man in a museum in Boston in 1999, who told me about his dream that he was very much concerned about. He didn't seem to know a lot about Christianity; though, he was a Caucasian from urban Australia, so he must have known some. And his innocence level was probably lower than many others in the world who know less about the gospel and who have followed their conscience more fully.
He said he dreamt that he was in this very scary dark place. He could feel the evil all around, perhaps even evil spirits, but they weren't doing anything to him, which is what happens 24/7 in the higher levels of hell.
So he was in some version of hell light; though, it was still scary for him enough to be willing to ask me for my opinion. Because he didn't want to end up there.
I'm guessing there is a level of hell much lighter than this, but I don't know for sure. He was probably living with his girlfriend, who was with him, knowing that was wrong, etc..
The main thing is for us to accept the fact that Jesus will judge everyone according to what they've actually done or have not done. He's the Potter; we're the clay. He knows what is just. We may think we do. But if we go too far in questioning God, and then get a bitter spirit, it will be evident in our fruit-of-the-Spirit level — and we can even hold up the revival.
God wants to build His church through us. He wants us to make a home where He will lead the people into all truth. May we never get in the way by becoming critical of our Lord and Savior. His business is His business. We need to be busy doing what He's called us to do so 'ONE' can happen. Then heaven will become more popular than hell, hopefully, someday soon.
Some New Testament texts that show that there are degrees of punishment in hell, and those of us who are Christians better not end up there, because we're more accountable because of what we know. And teachers get a stricter judgment for sure.
We need to be really careful, working out our salvation in fear and trembling, like Paul said, who made sure he was right with everyone in order to run his race TO WIN!
May we be 'ONE'!
Key links are included below. The Francis Chan posts are especially good for skeptics.
jeff
– –
Matthew 10-11:
10:14 Whoever doesn't receive you or hear your words, as you go out of that house or that city, shake the dust off your feet. 15 Most certainly I tell you, it will be more tolerable for the land of Sodom and Gomorrah in the day of judgment than for that city.
11:20 Then he began to denounce the cities in which most of his mighty works had been done, because they didn't repent. 21 "Woe to you, Chorazin! Woe to you, Bethsaida! For if the mighty works had been done in Tyre and Sidon which were done in you, they would have repented long ago in sackcloth and ashes. 22 But I tell you, it will be more tolerable for Tyre and Sidon on the day of judgment than for you. 23 You, Capernaum, who are exalted to heaven, you will go down to Hades. For if the mighty works had been done in Sodom which were done in you, it would have remained until this day. 24 But I tell you that it will be more tolerable for the land of Sodom, on the day of judgment, than for you."
Matthew 23:
13 "Woe to you, scribes and Pharisees, hypocrites! For you devour widows' houses, and as a pretense you make long prayers. Therefore you will receive greater condemnation.
Luke 12:
42 The Lord said, "Who then is the faithful and wise steward, whom his lord will set over his household, to give them their portion of food at the right times? 43 Blessed is that servant whom his lord will find doing so when he comes. 44 Truly I tell you, that he will set him over all that he has. 45 But if that servant says in his heart, 'My lord delays his coming,' and begins to beat the menservants and the maidservants, and to eat and drink, and to be drunken, 46 then the lord of that servant will come in a day when he isn't expecting him, and in an hour that he doesn't know, and will cut him in two, and place his portion with the unfaithful. 47 That servant, who knew his lord's will, and didn't prepare, nor do what he wanted, will be beaten with many stripes, 48 but he who didn't know, and did things worthy of stripes, will be beaten with few stripes. To whoever much is given, of him will much be required; and to whom much was entrusted, of him more will be asked.
Hebrews 10:
26 For if we sin willfully after we have received the knowledge of the truth, there remains no more a sacrifice for sins, 27 but a certain fearful expectation of judgment, and a fierceness of fire which will devour the adversaries. 28 A man who disregards Moses' law dies without compassion on the word of two or three witnesses. 29 How much worse punishment, do you think, will he be judged worthy of, who has trodden under foot the Son of God, and has counted the blood of the covenant with which he was sanctified an unholy thing, and has insulted the Spirit of grace? 30 For we know him who said, "Vengeance belongs to me," says the Lord, "I will repay." Again, "The Lord will judge his people." 31 It is a fearful thing to fall into the hands of the living God.
2 Peter 2 [Warning to born-again believers]:
1 But false prophets also arose among the people, as false teachers will also be among you, who will secretly bring in destructive heresies, denying even the Master who bought them, bringing on themselves swift destruction. 2 Many will follow their immoral ways, and as a result, the way of the truth will be maligned. …
10 but chiefly those who walk after the flesh in the lust of defilement, and despise authority. Daring, self-willed, they are not afraid to speak evil of dignitaries; 11 whereas angels, though greater in might and power, don't bring a railing judgment against them before the Lord. 12 But these, as unreasoning creatures, born natural animals to be taken and destroyed, speaking evil in matters about which they are ignorant, will in their destroying surely be destroyed, 13 receiving the wages of unrighteousness; people who count it pleasure to revel in the daytime, spots and blemishes, reveling in their deceit while they feast with you; 14 having eyes full of adultery, and who can't cease from sin; enticing unsettled souls; having a heart trained in greed; children of cursing; 15 forsaking the right way, they went astray, having followed the way of Balaam the son of Beor, who loved the wages of wrongdoing; 16 but he was rebuked for his own disobedience. A mute donkey spoke with a man's voice and stopped the madness of the prophet.
17 These are wells without water, clouds driven by a storm; for whom the blackness of darkness has been reserved forever. 18 For, uttering great swelling words of emptiness, they entice in the lusts of the flesh, by licentiousness, those who are indeed escaping from those who live in error; 19 promising them liberty, while they themselves are bondservants of corruption; for a man is brought into bondage by whoever overcomes him. 20 For if, after they have escaped the defilement of the world through the knowledge of the Lord and Savior Jesus Christ, they are again entangled in it and overcome, the last state has become worse for them than the first. 21 For it would be better for them not to have known the way of righteousness, than, after knowing it, to turn back from the holy commandment delivered to them. 22 But it has happened to them according to the true proverb, "The dog turns to his own vomit again," and "the sow that has washed to wallowing in the mire."
James 3 [Warning to born-again believers — there are no judgments in heaven]:
1 Let not many of you be teachers, my brothers, knowing that we will receive heavier judgment.
Revelation 20
11 I saw a great white throne, and him who sat on it, from whose face the earth and the heaven fled away. There was found no place for them. 12 I saw the dead, the great and the small, standing before the throne, and they opened books. Another book was opened, which is the book of life. The dead were judged out of the things which were written in the books, according to their works. 13 The sea gave up the dead who were in it. Death and Hades gave up the dead who were in them. They were judged, each one according to his works. 14 Death and Hades were thrown into the lake of fire. This is the second death, the lake of fire. 15 If anyone was not found written in the book of life, he was cast into the lake of fire.
#degrees of sin #levels of sin #greater sin #greater judgment
Related:
Jesus Mentions Hell and Destruction in 46 Verses! — We don't need to know Greek to be able to clearly see hell is real and eternal. We better beware and tell others too!
Jesus said people will be tormented in hell (not annihilated) in 13 passages
[book – audio – video] Mary K. Baxter: A Divine Revelation of Hell — "There is greater punishment for those who once preached the gospel and went back into sin, or for those who would not obey the call of God for their lives"
Mary K. Baxter's Divine Revelation of Hell: We Must Be Right With God — "Lord," I said, "You mean your servants are here?" "Yes," said Jesus, "Servants that would not stand for the truth and for holiness. It is better that one never starts than to turn back after beginning to serve Me."
[10-minute video] Francis Chan: Erasing Hell — "Do you ever even consider the possibility that maybe the Creator's sense of justice is actually more developed than yours? And that maybe His love and His mercy are perfect, and that you could be the one that is flawed. … We can't afford to be wrong on this issue."
[EXCELLENT video] Francis Chan and Preston Sprinkle: Erasing Hell — "He gets to define what love is, and not us." "That means my sin is way worse than I could ever even imagine." | ~"I think this whole concept of 'how could God do this' is woven into the fabric of our culture that says 'how dare my dad tell me what I can and cannot do!' We've lost the idea of authority, and it's killing our culture."
[Q&A] Francis Chan on Rob Bell and Hell: Why 'ERASING HELL' was Francis' most difficult book and how it prompted him to repent for softening Jesus' warnings — "WE IN AMERICA READ CERTAIN PASSAGES OVER AND OVER TO THE NEGLECT OF OTHERS, we start to believe that Jesus had a friendly tone all the time. … We have tried to block Hell out of our minds. Yet because it's written about so often in Scripture, I think God does want it on the forefront."
WHY HELL is INTEGRAL to THE GOSPEL — God declares himself to be compassionate and loving, but he also says, "Yet he does not leave the guilty unpunished." The Psalms declare that "Righteousness and justice are the foundation of his throne." — Why is it that when people think about hell they conclude God must be at fault and not themselves?
[10-minute video] Francis Chan: Erasing Hell — "Do you ever even consider the possibility that maybe the Creator's sense of justice is actually more developed than yours? And that maybe His love and His mercy are perfect, and that you could be the one that is flawed. … We can't afford to be wrong on this issue."
Pastor DIES > goes to HELL because he HADN'T FORGIVEN his wife > AROSE from the dead almost 2 days later > tells story" 
Bill Wiese's 23 Minutes in Hell — What is it like in Hell? — "How bad could it be? You can't breath; you can't eat; you can't sleep… you're tormented. And all this you have to endure for eternity."
Hell Vision — the man in the vision represents ministers that preach false teachings and doctrines that lead His people astray. Many churches are the gateways to hell. ONLY A FEW could find their way out of the maze!
12 New Testament Texts: HELL Is ETERNAL
[music video] Degarmo and Key: Boycott Hell! — "We've gotta job to do; We're runnin' out of time to do it" — Dana Key 1953 – 2010
Hell Testimony — Kenneth Hagin's Near Death Experience in 1933!
How Many Will Be in Heaven? How Many are Finding the WAY? Only 1 in 40 — 2.5%?!!
Hell is Real — There were some ministers there with their whole congregations gnashing their teeth on this minister: "You told us you had the truth. We followed you!"
[WordPOWER!] 2 Peter 3: BEWARE, in the LAST DAYS People Will Be WILLINGLY IGNORANT
Willful Ignorance: Actively Resisting the Truth & Truth-tellers
From Willful Ignorance through Cognitive Dissonance to "Could I Be Wrong?"
Baruch: "Not only is DECEPTION of the church possible, it WAS PROPHESIED TO HAPPEN!" — Jesus said "IN THE LAST DAYS THE MAJORITY WILL BE DECEIVED, take heed that it doesn't happen to you" — "FALSE TEACHERS are actually SPEAKING SPELLS with the words of their FALSE DOCTRINES!"
My 1990 Key-to-Revival Prophecy: "There is might and there is power and there is glory, but it is being withheld until these relationships are made right, until we love our brother enough to…"
The Welsh Revival of 1904-05 by J. Edwin Orr: A Countrywide Asbury-like REVIVAL! The 4 Points: #1 Confess any known sin, and put any wrong done to man right again. #2 Put away any doubtful habit. #3 Obey the Spirit promptly. #4 Confess your faith publicly.
Asbury Revival, 1970: "'Dr. Kinlaw, I am a liar. Now what do I do?' … Three days later, she came to me radiant, and she said, 'Dr. Kinlaw, I'm free!'"
The Didache (70-100 AD): Reconciliation was required to attend early church meetings! "How upside-down the 'church' is today."
Benny Hester: "When God Ran" — God will RUN when we come back to Him!
Who-Goes-To-Heaven Scriptures — Narrow is the Way | Who are the Children of God?
[WordPower • Psalm 50] God Warns: "You have done these things, and I kept silent. You thought that I was just like you. … Now consider this…lest I tear you into pieces and there be none to deliver" (Hell?)