The study: Sex differences in the structural connectome of the human brain – Madhura Ingalhalikar, Alex Smith, Drew Parker, Theodore D. Satterthwaite, Mark A. Elliott, Kosha Ruparel, Hakon Hakonarson, Raquel E. Gur, Ruben C. Gur, and Ragini Verma, December 2, 2013
– –
From: Daily Mail
Men's and women's brains: the truth! As research proves the sexes' brains ARE wired differently, why women's are cleverer ounce for ounce – and men can't read female feelings
Differences

between the sexes are

profound

Men generally have more

connections within

each hemisphere
In women the stronger links run from

side to side between

them
This means men are more

logical

and better at coordination
Women are more

intuitive

and have greater '

emotional

intelligence'

John Naish
4 December 2013
Women's and men's brains are wired in fundamentally different ways.
Neurologists used magnetic resonance imaging (radio-wave scans that produce detailed images of the inside of the body) to study the brains of almost 1,000 volunteers. …
Men generally have more connections within each hemisphere and between the front and back of the brain.
In women the stronger connections usually run from side to side, between the left and right hemispheres.
In essence, what this means is that men are more logical and better at coordination and spatial awareness. Women are more intuitive, have greater 'emotional intelligence' and better memories for words and faces.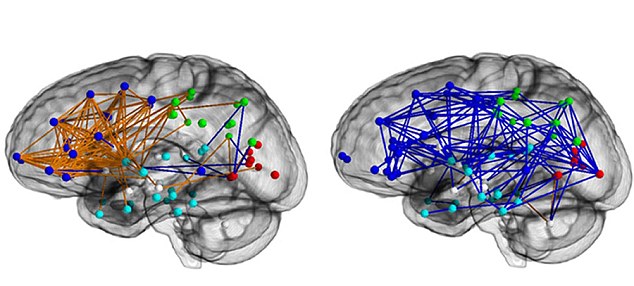 Female vs. male brain networks: Men have more connections within each hemisphere and between the front and back of the brain
Continue reading "Brain Scan Research Proves Men's and Women's Brains are Wired Differently — Men are more LOGICAL and better at coordination and spatial awareness. Women are more INTUITIVE, have greater 'emotional intelligence' and better memories for words and faces" →