We can't be a going-to-heaven Christian if we're addicted to porn. In Matthew 5, Jesus used two extreme examples to demonstrate that we must do whatever it takes to not lust in our hearts, so we won't lose our whole bodies in hell.
"Those who belong to Christ have crucified the flesh with its passions and lusts." (Gal. 5:24)
Here is Dan Corner saying it like it really is, when most pastors won't.
– –
From: eternallifeblog.com…
I Am a Christian Addicted To Porn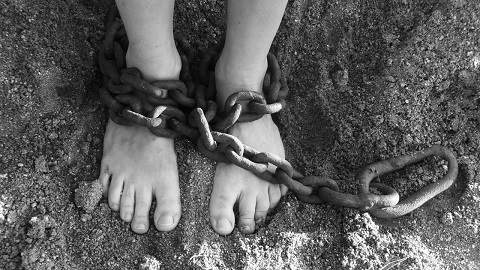 [Bible Question] Hi I've been addicted toporn for about a year now. I am a Christian struggling with this temptation and I go back and forth worshiping god one day, and then the next doing porn. I'm sick of being tempted and I wish I was not addicted to it. I know what I should be doing and that is building my relationship with God, but I feel like porn just never stops in my life. No one knows that I'm addicted to porn except God, and I want to power through this with God and I know I can do it. I just have to stop. Could you please give me some advice, and some encouragement so that I stop this horrible temptation and get back to what matters most and that's worshiping God. I don't. Want to tell anyone about this, and I just want to get it done with.
[Bible Answer] You are not a Christian addicted to porn as you think. Your spiritual identity, as God sees you, is: adulterer. You are NOT a Christian. It is impossible to be an adulterer and a Christian simultaneously. You are addicted to lust (mental adultery) like a drunkard is addicted to alcohol. Salvation is the cure in both cases (1 Cor. 6:9-11). You need to repent, that is, turn away from your adultery (Mt. 5:28). So, get your magazines, videos, CDs etc. and all other sources of sexual temptation and rip them to pieces. Smash the things that won't rip, then burn it all so no one else can be hurt by the same demonic material which the devil is using to ensnare you as you travel down the road to hell. To be aware of your true identity will help you realize how vital it is for you to turn 180 degrees the other way and become a faithful follower of the Lord Jesus. After you sincerely and humbly ask God for forgiveness and salvation and repent, you need to wash out your mind. It has become defiled by the images you have allowed to enter in. You have chosen to look at and ponder pictures of immoral women, which are destructive to you. Now you need to similarly chose to saturate your mind with God's word (spiritual medicine) and ponder what you are reading from Scripture, putting it into practice. Such will enable you to walk holy and clean before God. You will also get spiritual insights by doing that. Read at least 3 to 5 chapters per day. Since TV is a lust generator, stop watching TV. You must guard your SOUL, your most valuable possession. Stop going to places of temptation and if your so-called friends are means of temptation, stay away from them. Read this about spiritual safeguards. This is very serious. It is a matter of life or death! Eternity hangs in the balance. Now that you know what needs to be done, DO IT for your own good. God isn't going to do it for you! Eternal life can be yours. There is NO eternal security.
Related:
Lust: Another Name For Adultery – Dan Corner
The Low-Cut Top Epidemic: May We Be Holy
[Lust FREEDOM — "The Poison that Kills the Soul"] My experience: How DEMONS DRIVE heterosexual and homosexual lust in 'Christians' — The bad news is that demons drive lust. The good news is that demons drive lust, because freedom lies straight ahead!
To my homosexual friends: May we all be 'ONE' in Christ! What is the 'fury fire' that Piper Perabo talks about? How can it be tamed? What is God's true perspective in "The Homosexuals Will Arise" prophecy and what does Romans 1 really say?
[science] Why is Lust Addictive? — SEX increases dopamine by 200 units (1/6 the height of a METH euphoria)
[ video ] Jessica Rey: The Evolution of the Swimsuit — Can Modesty Make a Comeback?
[FreedomQuote] "Women, the way a man looks at you is out of your control, but what you reveal is up to you."
I've finally shared much of what I know about and what can be done through the TREMENDOUS and mostly misunderstood and underused gift of tongues. A reader thankfully put me over the edge : ) I need to re-write this someday so it's not written mostly in a comment. But it's all there.
The Red Gate Prophecy — What If I Open It Just a Little Bit? The believers, not the non-believers, have opened the gate to sin, which is why this country has deteriorated
Can a Christian Have a Demon? Absolutely! Most Have Many!
A Gift that Will Set Many Free! (A Death Warrant is Out for Your Souls)
Survey of Christian Men on the Subject of Women's Clothing — Men responded: "This area is the greatest challenge in my life!" • "Men are created in such a way as to be stimulated by sight." • "Demon influence and demon possession is rampant. Evil triumphs when the church does nothing!" • Many more
[Princeton study] Is it wrong to wear a bikini? — The fully-clothed women were seen as being in control of their own actions, whereas the immodest ones were objects to be acted upon
David Bercot's CD teaching: Separation from the World — What the Early Christians Believed About Separation from the World. D. Bercot. The Bible exhorts us: "Adulteresses! Do you not know that friendship with the world is enmity with God? Whoever therefore wants to be a friend of the world makes himself an enemy of God." So…
A Nation 'Bewitched': Farrah Fawcett — "When the show [Charlie's Angels] got to be No. 3, I figured it was our acting. When it got to be No. 1, I decided it could only be because none of us wears a bra"
Who-Goes-To-Heaven Scriptures — Narrow is the Way | Who are the Children of God? — "There is therefore now *no condemnation* to those who are IN CHRIST Jesus, who don't WALK according to the flesh, but ACCORDING TO THE SPIRIT."
All of my Lust Freedom! posts [latest appear first, 10 posts per page]