From: independent.co.uk
The hardwired difference between male and female brains could explain why men are 'better at map reading
And why women are 'better at remembering a conversation'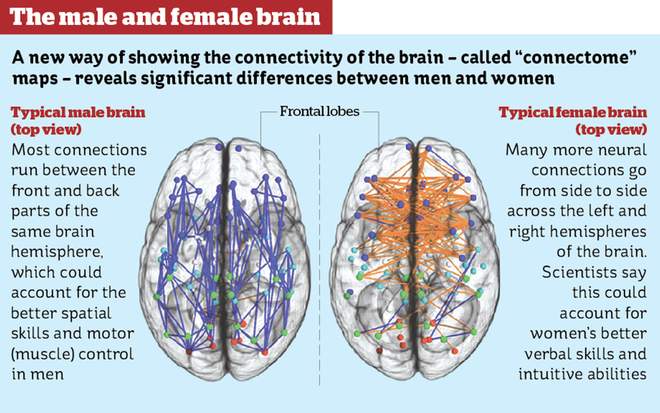 A pioneering study has shown for the first time that the brains of men and women are wired up differently which could explain some of the stereotypical differences in male and female behaviour, scientists have said.
Researchers found that many of the connections in a typical male brain run between the front and the back of the same side of the brain, whereas in women the connections are more likely to run from side to side between the left and right hemispheres of the brain. …
Psychological testing has consistently indicated a significant difference between the sexes [though this has been downplayed by educators – editor] in the ability to perform various mental tasks, with men outperforming women in some tests and women outperforming men in others. Now there seems to be a physical explanation, scientists said.
"These maps show us a stark difference – and complementarity – in the architecture of the human brain that helps to provide a potential neural basis as to why men excel at certain tasks, and women at others," said Ragini Verma, professor of radiology at the University of Pennsylvania in Philadelphia.…
A special brain-scanning technique called diffusion tensor imaging, which can measure the flow of water along a nerve pathway….
Because the female connections link the left hemisphere, which is associated with logical thinking, with the right, which is linked with intuition, this could help to explain why women tend to do better than men at intuitive tasks, she added.
"Intuition is thinking without thinking. It's what people call gut feelings. Women tend to be better than men at these kinds of skill which are linked with being good mothers," Professor Verma said. …
Men tend to outperform women involving spatial tasks and motor skills – such as map reading – while women tend to better in memory tests, such as remembering words and faces, and social cognition tests, which try to measure empathy and "emotional intelligence". …
"It's quite striking how complementary the brains of women and men really are," said Rubin Gur of Pennsylvania University, a co-author of the study.
Related:
(video) Study: MALE & FEMALE BRAINS WIRED OPPOSITELY, explaining Why Sexes Excel at Different Tasks — MEN have high FRONT-BACK conductivity; WOMEN have high LEFT-RIGHT conductivity • Men CONCENTRATE on SINGLE TASKS better; WOMEN MULTITASK better
Scientists: WOMEN better at MULTI-TASKING, MEN better at CONCENTRATING on SINGLE Complex TASKS; Women have better connections between the LEFT & RIGHT sides of the brain • Men have better connections between the FRONT & BACK — 'COMPLEMENTARY' PROVEN!
Study: Men and Women Have Distinct Personalities — MEN: higher emotional stability, dominance, rule-consciousness & vigilance / WOMEN: higher sensitivity, warmth & apprehension • Dr Marco Del Giudice: "The idea that there are only minor differences between the personality profiles of males and females should be rejected as based on inadequate methodology"
Adrian Rogers on MEN and WOMEN: Celebrate the Difference — "God made us different that He might make us ONE." It's time to stop trying to be the be the same or resenting each other because of our differences.
(video) David Pawson: "Leadership is Male" (in the home and in the church) — "The demand for IDENTITY between the sexes has caused so many problems. …  I've found that every woman, deep down in their heart, want to see their men-folk taking responsible leadership"
God ordained men to be in positions of leadership, authority and covering, both in the home and in the local church. Who are we to change that? – Len Hummel
Satanists used "sexual liberation," to undermine humanity: "we corrupt in order to conquer" — For a woman, sex is an act of self-sacrifice and surrender. By definition, it requires trust, i.e. love and devotion to one man. When she has casual sex, inevitably she is disappointed and feels used. She starts to hate men and falls victim to feminism and lesbianism
How The Rockefellers Re-Engineered Women — The hidden goal of feminism is to destroy the family, which interferes with state brainwashing of the young
(video) Feminism Was Created To Destabilize Society, Tax Women and Set Up the NWO – Aaron Russo
Differences in Physical Ability in Men & Women — Measurable sex differences in strength, speed, resilience and endurance as well as in motor control, precision and complexity can largely explain male dominance in occupational settings which rely on these traits
"The greatest thing a man can do to a woman is to lead her closer to God than to himself"