"God is love, and HE WHO REMAINS IN LOVE remains in God, and GOD REMAINS IN HIM. In this, love has been made perfect among us, that we may have BOLDNESS IN THE DAY of judgment, *because* AS HE IS, even SO ARE WE in this world." – 1 John 4:16-17
– –
THE GUARDRAIL: "It's not a fence; it's a guardrail!"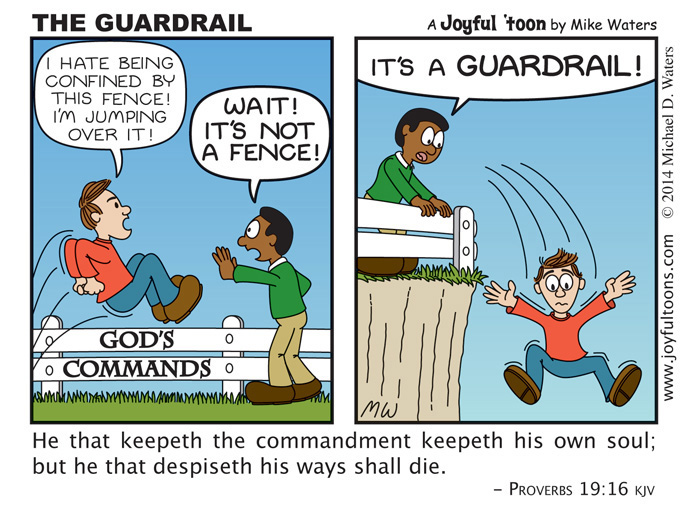 Jesus' GREATEST TWO COMMANDMENTS:
"LOVE THE LORD your God WITH  ALL of your heart, soul, mind and strength, and YOUR NEIGHBOR AS YOURSELF":
• • •
On 1/14/12, the 4 year anniversary of this post, I pulled my $6,000 challenge, which ran for almost 2 years (mostly at $6,000). No one has been able to refute this straight Bible truth about who really goes to heaven and who really are the children of God according to what the New Testament says.
"Once saved, always saved (OSAS)" and "it's hard to lose one's salvation" is being taught almost universally in these great days of deception. The Bible predicted this time we're living in right now!:
"For the time will come when they will not listen to the sound doctrine, but, having itching ears, will heap up for themselves teachers after their own lusts; and will turn away their ears from the truth, and turn aside to fables" (2 Tim. 4:3,4).
Once saved, always saved a doctrine of demons, a heresy, actually, that is destroying our land and sending many into eternal darkness, thinking they are going to heaven. And it will be flame on for many teachers, especially, who will get "a stricter judgment" for misleading the people from believing the many clear warnings in scripture.
This is not a joke or a game. This is serious!!!
On the positive side, Jesus stated in John 17 that He would give us His glory so we'd be 'ONE' with each other in Him. Then the world would know!
Sound doctrine will bear much fruit. Unity will happen, because when we're holy, worshiping in Spirit and in truth, God will draw near to us. And we'll see a great revival, which may be called the Third Great Awakening, which should last until the end of days, because we finally accepted at face value what the Bible clearly says — not making excuses: 'God didn't really mean that.' 'Don't worry, be happy.
I've been interested in this subject for about four decades, but I had a dream about 20 years ago in which I was told that I was in "danger of going to hell," because I had been willfully lusting during a one or two week period while watching TV in the evening during a discouraging period in my life.
And then I heard an abbreviation of  Jesus' words in Mt. 5:27-30: ~"Anyone who looks at woman to lust after her commits adultery, and it's better to pluck out your eye than for your whole body to be thrown into hell."
My immediate reaction was: "You're serious!"
The fact that God is serious when He says something is the most important key to understanding the scriptures. If God says it He means it, regardless of what we would like it to mean. So when Jesus says ~"narrow is the way and few find it," 'narrow' means narrow and 'few' really does mean few. Howard Pittman found this number to be 2.5%, and that was 30 years ago, before internet porn and the 'low-cut top epidemic.'
So then we better not major on the nicer sounding passages from Paul's intros and ignore the many straight-forward, conclusive texts in this essay which clearly lay out what is required to be a real, going-to-heaven Christian.
When we're honest with the text and ourselves, we'll find that the entire New Testament teaches the same thing. Our consciences must be clear from biblically abiding in the Vine according to Romans 8:1, all of it (the NIV and other truth-gutting translations took out 8:1b).
"There is therefore now no condemnation to them which are in Christ Jesus, who walk not after the flesh, but after the Spirit." KJV
Being 'born-again' is just the start. We must be holy, having clear consciences now so we'll have clear consciences when we see Jesus face to face — and we'll both smile big … : )
May we be 'ONE'!!!
That the world will know — and we'll be so happy…!
– Jeff : )
– –
This article has been online for 14 years. Because this issue is so crucial to almost everyone in so many ways, I've been offering a reward to anyone who can refute it — and no one has been able to.
So it appears this article has withstood the tests. Jesus really did mean: "narrow is the way" and "Not everyone who says to me, 'Lord, Lord,' will enter into the Kingdom of Heaven; but he who does the will of my Father who is in heaven."
It's easy to say 'Lord,' but quite different to actually do His will: to make sure our hearts are right with Him and each other.
1 John 4:16,17:
We know and have believed the love which God has for us. God is love, and he who remains in love remains IN GOD, and God remains in him. In this[,] love has been made perfect among us, that we may have boldness in the day of judgment, because as he is, even so are we in this world.
Jeff Fenske
Anchorage, Alaska
I will give $6,000 to anyone who can refute my
"Who-Goes-To-Heaven Scriptures — Narrow is the Way" article
.
Who-Goes-To-Heaven Scriptures —
Narrow is the Way
By Jeff Fenske
Probably the greatest and most serious deception in the world is the misconception about what the Bible really teaches about who goes to heaven.
Many are being deceived, having not been taught the truth about what Jesus' requires so that we will have boldness (and I'm hoping even a very big smile) when we stand before Jesus.
What follows is what I've learned from more than 30 years of studying and prayerfully thinking this through. I'll start with a few words about being born-again, and then jump into the texts. Continue reading "Who-Goes-To-Heaven Scriptures — Narrow is the Way | Who are the Children of God? — "There is therefore now *no condemnation* to those who are IN CHRIST Jesus, who don't WALK according to the flesh, but ACCORDING TO THE SPIRIT"" →